The increasing popularity of Permanent Makeup proves how convenient and readily available it is these days. Many have realized the advantages Permanent Makeup can offer, freeing you from the daily routine of "beauty enhancement" i.e., spending an hour or more on your daily makeup routine in the morning and of course, not forgetting the many reasons we may choose to have it done due to personal or medical reasons.  
Having your own PMU artist is the same as having your own personal hairdresser or dentist, you should trust them vehemently. Visits to a true professional in their field will bring only positive emotions and allow you to always look in accordance with the most current fashion trends and most importantly receive the highest quality service. 
Eyebrows have their own changing trends through the years and may become outdated, but everything is quite fixable if you choose a specialist who is ready to emphasize, your natural beauty and listen to your main concerns.  
When we know we want something done, it is easy to get carried away and book an appointment with the first technician you find, however, I cannot stress this enough; it is vital that you take your time in choosing your technician! Do some proper research to find a good, experienced, trustworthy professional – trust me, you will thank me in the end when you are not spending hundreds of euros going somewhere else to correct the first technicians' mistakes! 
Let's look a little more at what you should be looking at when researching a technician and why it is so important. 
This is usually the most effective way of finding a reputable technician – a friend's recommendation. With this, you can see the final healed result in person, so if you have any friends who have had any PMU treatments ask them their advice and if they were happy with their treatment results.
The bigger a technician's portfolio the better, as generally this means they have a lot of experience. When looking at a portfolio, pay special attention to the quality of the photos. These should not be pictures from magazines, photos from the Internet, or other people's work. The portfolio of a professional PMU artist should contain only their own work and have clear before and after pictures. Also, ask to see photos of healed results rather than just photos immediately after treatment.

 
Be sure to read customer reviews. Make sure you check not only the website of the salon but also on social networks and google so that you can see reviews that have not been purposely chosen by that individual.

 
Be sure to ask what qualifications they hold. Usually, most reputable specialists will publish on their website or on social networks information about their education: diplomas, certificates, advanced training, awards, etc.

 
Sanitary conditions are especially important criteria because the state 

of your

health depends on them. If you can visit the salon beforehand, pay attention to the cleanliness of the work area, equipment, and tools. The master must perform the work only in disposable gloves while observing all health and safety standards.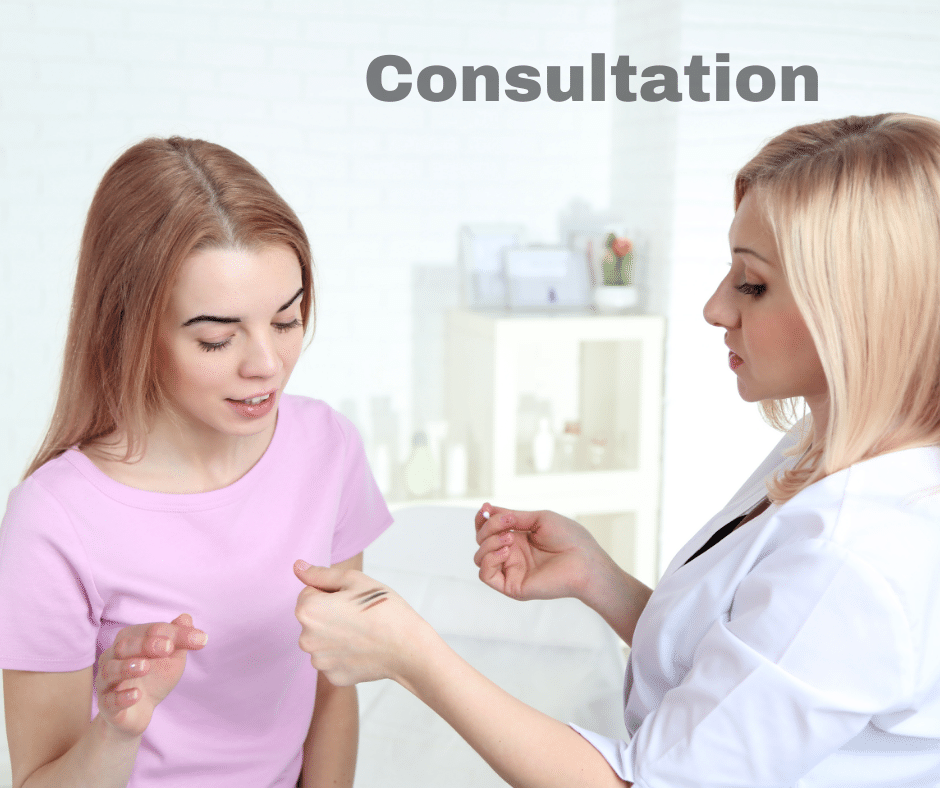 Another confirmation of the master's qualifications is a conversation with them when registering for permanent makeup. A good specialist will do an 

in-depth

consultation prior to your treatment including discussing any contraindications and pre and post care.

 
What can happen by choosing the wrong technician?
Like in any industry – the more in demand a procedure or service, the more people appear who want to make money from it. Permanent makeup is a very fast-growing industry and the number of salons offering this service is constantly increasing.  
Unfortunately, some people introducing these treatments are mainly focused on the extra revenue it can create for their business rather than really having a passion for the treatment. In this case, you may find beauticians taking short-term courses and declaring themselves as masters, but their knowledge of permanent makeup is very superficial. Becoming a good professional in PMU is very costly and takes years and years of practice along with constantly continuing to update their skills.
A good technician will take the time to consider all the features of your appearance and will help you choose the perfect colour and shape of the PMU eyebrows. An unskilled technician can cause dramatic mistakes on your eyebrows by using templates without regard for individuality which can have a hugely negative impact on your appearance. 
A lack of knowledge in PMU could cause; a wrong mix of pigments which result in an unexpected colour appearance or they could not follow the correct treatment steps which result in eyebrows of an incomprehensible shade. 
Finding and choosing a good permanent makeup artist is simply necessary if you want to emphasize and enhance your beauty, and not completely ruin your appearance and harm your health. 
Please, DO NOT choose a technician purely based on the following: 
⦁ The proximity of the salon to your home. By deciding to save time in choosing a salon that is easiest for you to get to, you risk spending much more time and health trying to correct the mistakes made by these unprofessional artists. 
⦁ Low price for services. Usually when something is too good to be true, it usually is! High-quality professional equipment, good safe colouring pigments, effective pain relievers are all expensive resources a good technician needs and if they are offering the treatment severely less than their competitors it is likely that they are taking some shortcuts with their resources along the way.  
If you have any doubts about the PMU technician, then it is better not to go to them. Spend a little more time and research looking around, and you will definitely be able to find a really good specialist who can guarantee you a great long-term result from permanent makeup and most importantly someone that you feel comfortable and confident in!  
PMU Guide Team