All that you should know before your permanent makeup procedure and aftercare.
Before the PMU procedure:
On the day of your procedure – do not drink coffee or black/green tea.
24 hrs – do not drink alcohol.
48 hrs – do not take Vitamin C, Aspirin, or other blood thinners.
Before the PMU procedure and for 4 weeks after:
Avoid exposure to strong UV radiation (sun, tanning salon).
AHA Peels and Microdermabrasion.
No tinting brows, lashes.
Leave your treated area alone and let it heal for 10-14 days.
DO NOT RUB, SCRATCH, OR PICK AT THE TREATED AREA!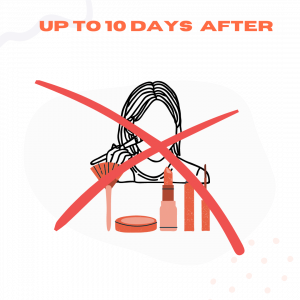 No makeup on the treated area
Keep your treated area dry (no swimming, no steaming room, no sweating in the gym)
Pre and post care must be followed to achieve optimum results. Failure to follow instruction may cause loss of pigment or infection and may require additional procedures for the desired result.
Two weeks after the procedure you can resume your usual routine: wetting, sweating, makeup on the treated area, etc. but it does not mean that it is fully healed. It takes 4-6 weeks for the skin to heal properly, it is important to be patient